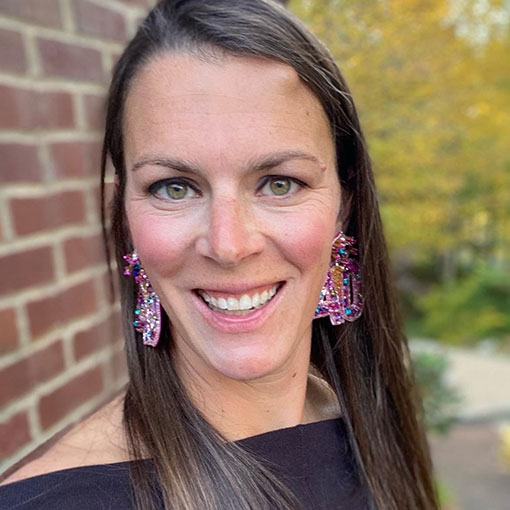 Caroline Keith never imagined that she would end up living in Cincinnati, but we are certainly glad she did. For 16 years, Caroline has been a member of the Vocal Arts Ensemble, affectionately referring to herself as a "blender" – an alto who connects the higher and lower tones in the Ensemble, bringing everything together seamlessly for the audience. It suits her well, for though she loves to perform with a group, she is not fond of the spotlight and isn't entirely comfortable performing solos.
Caroline grew up in Paducah, Kentucky, and began studying music privately as a piano student in second grade, moving along to cello and French horn, and finally voice in seventh grade. She was involved in Paducah Tilghman High School's band, choir, and orchestra programs and travelled to Murray State University for private lessons, one full hour each way, which gave her valuable bonding time with her mother Jeane. Her experience in high school choir ignited her passion for the choral world, culminating in a performance of the opening movement from Carmina Burana during her senior year. With the encouragement of her high school choir director, Caroline auditioned at University of Cincinnati's College-Conservatory of Music where she went on to study music education. This is where she learned about the Vocal Arts Ensemble through Earl Rivers, auditioned, and began performing with us. In pursuit of her music education degree, Caroline was a student teacher at Indian Hill Elementary School, where she met a handsome history teacher named Jason. It wasn't long before the two were married and bought a home in Madeira, where Caroline began her position as the Middle and High School Choir Director.
Jason and Caroline Keith now live in Anderson with their three young children, Margaret, William, and Lucy, and their elderly pugs Reggie and Rudy. These days, Caroline's primary focus is her children, but she continues to sing with the VAE and other organizations around town. When she's not singing or performing mom duties, Caroline enjoys training for marathons and vacationing at the beach in Pawleys Island, South Carolina. When she's not driving her children to and from neighborhood activities, she proudly serves as the VAE's official Anderson Party Car Chauffeur.
Get to know Caroline better by listening to her personal playlist on VAE's Spotify Channel.